Make Vietnam a bigger logistics hub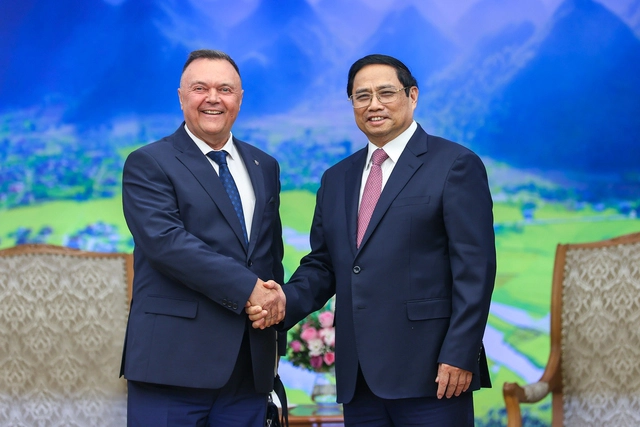 Prime Minister Pham Minh Chinh receives Mr. Ivan Petrov, President of the Federation of International Freight Forwarders Associations (FIATA)
Prime Minister Pham Minh Chinh thanked and highly appreciated the Federation for always being an important bridge contributing to promoting cooperation between the Vietnamese logistics service business community and the world; highly appreciated the Federation for choosing Vietnam as the host for the FIATA Annual General Meeting in 2025.
The Prime Minister said that Vietnam is promoting the development of strategic infrastructure, especially traffic infrastructure, digital infrastructure, and developing an integrated and modern logistics industry, promoting digital transformation to reduce costs. product costs, increasing the competitiveness of the economy, businesses and products and services.
The Prime Minister proposed the Federation strengthen cooperation with Vietnam, support the development of a strategy to develop logistics services in Vietnam until 2035, with a vision to 2045 – Photo: VGP/Nhat Bac
The Prime Minister asked the Federation to pay attention to enhancing cooperation and support Vietnam in developing a strategy for developing logistics services, sharing visions and experiences, providing policy advice, enhancing international cooperation, calling for investment. investing in major seaports, supporting human resource training, technology, management, further improving the competitiveness and quality of Vietnam's logistics services in the direction of digital transformation, green transformation, economic cyclic. The Vietnamese government is committed to accompanying and creating favorable conditions for partners.
The President of the Federation of International Freight Forwarders Associations highly appreciated the rapid development of the logistics field in Vietnam and the vision and goals of Vietnam in this field.
Hey, like this? Why not share it with a buddy?
COPYRIGHT © GLOBAL TRADING SUPPORT CO., LTD. ALL RIGHTS RESERVED