Agricultural exports sped up in last six months of 2023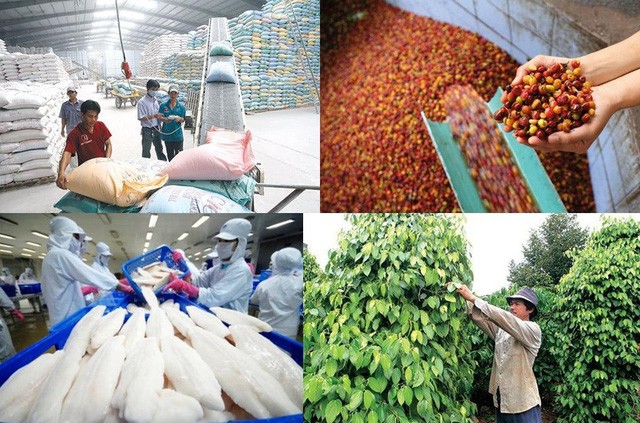 In the first six months of 2023, the export turnover of agricultural, forestry and fishery products reached 24.59 billion USD, down 11.1% over the same period in 2022. It is forecasted that in the last 6 months of the year, these commodities will continue to face a series of difficulties in terms of new orders and market expansion. Focusing on speeding up the exports of key products is an important solution to achieving the goal of agricultural, forestry and fishery exports at 55 billion USD.
According to the Ministry of Agriculture and Rural Development (MoARD), in the first six months of 2023, China, the US and Japan continued to be the three largest export markets for Vietnam's agricultural, forestry and fishery products. Export value to China, the US and Japan accounted for 21.4% (up 7.7%), 20.2% (down 32.9%) and 7.7% (down 5.3%), respectively.
Efforts amid harship
Data from the General Statistics Office showed that the growth rate of agricultural, forestry and fishery production value in the first six months of the year was estimated at 3.1%; of which, agriculture increased by 3.14% (cultivation increased by 2.11%, animal husbandry increased by 4.88%), forestry increased by 3.43%, and fisheries increased by 2.96%. the GDP growth rate of agriculture, forestry and fishery in the first 6 months of the year was quite high, reaching 3.07%. Head of the Planning Department under the MoARD Nguyen Van Viet said despite the decline in total export turnover of agriculture, forestry and fishery products in the first six months, there were still 7 products and product groups with export values of more than 1 billion USD, including coffee, rubber, rice, vegetables, cashew nuts, shrimp and wood products, of which rice and cashew nuts are two products witnessing an increase in both their volume and value of exports.
Specifically, the amount of exported rice was estimated at 4.27 million tonnes, up 22.2%, with export turnover reaching 2.3 billion USD (up 34.7% over the same period last year). In addition, exports of cashew nuts increased by 10.5% in volume and 7.7% in value. The export of coffee reached 1.02 million tonnes, down 2.2% in volume but export turnover reached 2.4 billion USD (up 3%) thanks to the average export price increasing by 5.2%. Besides this, a remarkable highlight was that fruit and vegetable products had an export turnover of 2.75 billion USD, up 64.2% over the same period and equal to 81.8% of the whole year of 2022. The results were gained thanks to initiatives removing problems related to orders and markets to increase exports.
However, the first 6 months of the year also recorded decreases in the turnover of two important commodities, fisheries and forestry. Specifically, seafood reached 4.13 billion USD, down 27.4%, main forestry products reached 6.5 billion USD, down 28.2%. According to Deputy Head of Forestry Department Trieu Van Luc, the export value of main forest products decreased in the first half of 2023 because European and American consumers have tightened their spending and reduced consumption of wood products, so the opening of new orders became extremely difficult. Meanwhile, the high cost of raw materials and inputs for production also significantly affected the export results of the entire industry. In addition, wood and wood products exporters face new regulations and requirements from the European Union (EU) market. Therefore, the ability to boost exports of wood and wood products will continue to face many difficulties in the last few months of the year.
For the seafood industry, according to the Vietnam Association of Seafood Exporters and Producers (VASEP), in the first 6 months of 2023, seafood export turnover decreased due to two main factors – inflation and inventories, in most of the main import markets such as the US, Europe, China and Japan.
Leveraging the strengths of promising products
Deputy Minister of Agriculture and Rural Development Phung Duc Tien said the entire agricultural sector is still determined to take advantage of opportunities and focus its resources on fulfilling the set target of the whole year plan, with the GDP growth rate of the whole industry reaching 3.0-3.5% and export turnover of agricultural, forestry and fishery products achieving 55 billion USD. To accomplish this goal, it is necessary to implement solutions to target key export products with high prospects and export value potential to compensate for products that may not meet the export turnover targets for the whole year.
The set targets are 25 billion USD for the main agricultural products; 17 billion for forestry products and wooden furniture; 10 billion USD for seafood; and about 3 billion USD for other commodities. Along with boosting exports, special attention should be paid to production to ensure sufficient supply and quality. Therefore, it is necessary to closely monitor the weather, meteorology, hydrology, storms, floods, natural disasters, water sources and saltwater intrusion to timely orientate the seasons and the appropriate crop structures; closely manage the granting of planting area codes, farming areas, support for trademark protection and geographical indications and product traceability.
In addition to removing difficulties and boosting exports for the whole sector, key industries with strong breakthroughs in turnover need to receive great attention to promote their further growth potential. Head of Cultivation Department under the MoARD Nguyen Nhu Cuong said Vietnam's vegetables and fruits have a lot of potential for export growth. The proof is that fruit and vegetable exports have never been as high as in the first 6 months of this year. If this growth momentum continues, the sector will surely achieve its export target of more than 5 billion USD in 2023.
In the coming time, measures to improve the value and quality of products from deep processing technology will help export turnover open many opportunities to increase sharply, and it is expected that an export turnover of 10 billion USD can be achieved in the near future. However, it is worth noting that the products need to meet the new regulations of many markets. In the past, markets mainly issued regulations related to food safety, now many requirements related to sustainable development associated with green growth such as environmental and labour factors have become more significant, requiring the attention of businesses.
Along with vegetables and fruits, the rice commodity also expects an export turnover of 4 billion USD for the whole year following remarkable growth in the first 6 months of the year. Deputy Head of the Quality, Processing and Market Development Department Le Thanh Hoa said in the last few months of the year, Vietnam's rice exports have had many opportunities to increase in both output and turnover due to the amount of rice produced in many countries in Asia facing the risk of decline due to the impact of El Nino. On average, in the first six months of the year, Vietnam's export rice price was estimated at 539 USD per tonne, a year-on-year increase of 10.2%.
In the coming time, under Official Dispatch No. 610/CD-TTg dated July 3, 2023 issued by the Prime Minister on strengthening the implementation of tasks and solutions to promote rice production and exports, functional sectors will continue to review and update their standards in the rice value chain in line with the international market; updating information and support production according to market demand and consumer tastes; and supporting storage, processing, quality, safety and traceability to increase the competitiveness of Vietnamese rice.
At the same time, linkages in high-quality rice production, the transformation of structure and types of exported rice to diversify export markets, in line with Vietnam's rice export market development strategy until 2030 as well as the Project to develop 1 million hectares of low-emission high-quality rice in association with green growth in the Mekong Delta Region, will be strengthened.
Source: Nhân Dân
Hey, like this? Why not share it with a buddy?
COPYRIGHT © GLOBAL TRADING SUPPORT CO., LTD. ALL RIGHTS RESERVED